Digital impression with Dentsply Sirona CEREC Primescan Intraoral Scanner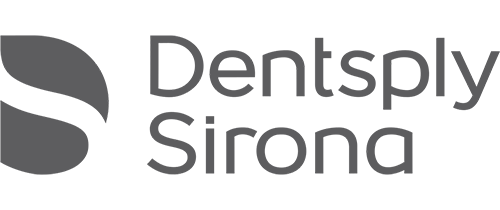 CEREC Primescan is the enabler for efficient digital workflows – both chairside in your practice and with your preferred partners. The Primescan enables efficient digital workflow, with two individual software configurations.
Primescan highlights at a glance
Future-proof patented technology.
Full arch scan in less than a minute.
Easy scanning of deep cavities, steep inclines and reflective surfaces like metal crowns.
Simple scanning of large edentulous areas and palates.
Unique three sleeve concept.
The Software
Primescan AC with Connect Software – Supports your connection to establish partners workflow.
Cerec Primescan AC with CEREC Software – Supports full chairside workflow for single visit dentistry.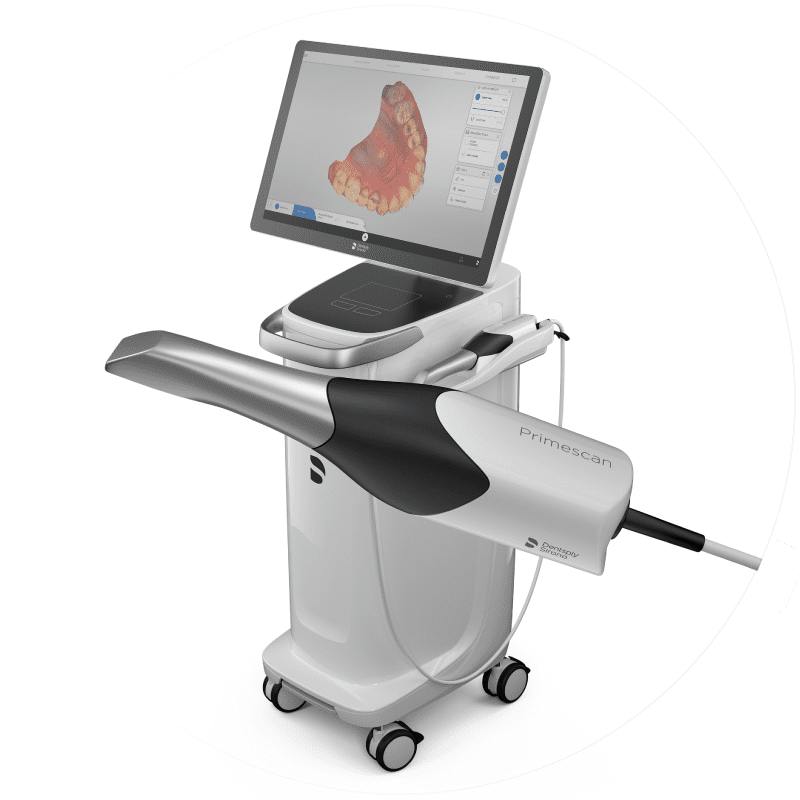 Easy to use
Impression taking with Primescan and Omnicam is easy and intuitive, especially with Omnicam's guided scanning option for full arch scan. This procedure can be delegated, saving time and bringing more joy to your assistants. The mobile acquisition center comes with a long battery charge.
Time saving
Easy and fast scans with shorter treatment time and immediate control of scan results lead to increased efficiency in the practice. Omnicam is great for quadrant scans and Primescan outstanding for full arch scans.
Excellent scan results
Between Omnicam's reliable quality and outstanding accuracy with Primescan, both scanners ensure a perfect fit for any restoration or appliance. Digital models are also less prone to errors than analog casts and reduce the need for repeated procedures.
Outstanding Hygiene
Primescan and Omnicam both have fully closed scanning windows to prevent liquid infiltration during the scanning process. The mobile acquisition center is approved as a medical device to be used in the vicinity of patients, unlike consumer notebooks. Closed surfaces allow for easy and fast disinfection. Additionally, no physical models means no cross contamination risks.
Hygiene protection sleeves for Primescan
With three different sleeve varieties, you can easily integrate the intraoral scanner into your hygiene workflow. The sleeves can be disinfected and autoclaved or disposed after use. Choose the sleeve which fits best for you and the requirements of your market.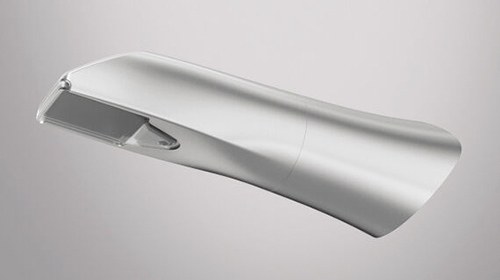 Autoclavable steel sleeve with single-use window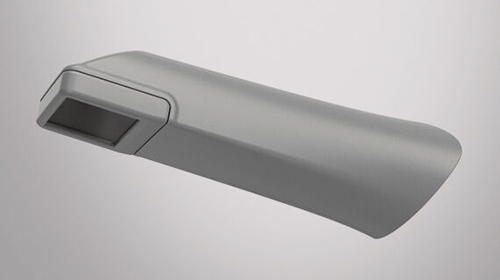 Disposable sleeve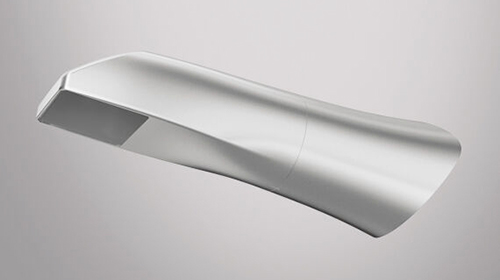 Steel sleeve with sapphire glass window
How to Send Digital Impressions
Whether you're an NHS or Private dentist and take digital or traditional impressions, we can help you with all.
Accurate scan data for first-rate prosthetic results
Highly accurate scan data is the starting point for every digital workflow and affects the quality of the final restoration at the dental lab. Primescan intraoral scanner impresses with extremely high performance that pleases clinicians and lab technicians, alike. While easy to use, you benefit from highest accuracy and predictable results over the entire digital workflow. Expect more from your intraoral scanner for a consultative patient conversation and a great treatment experience.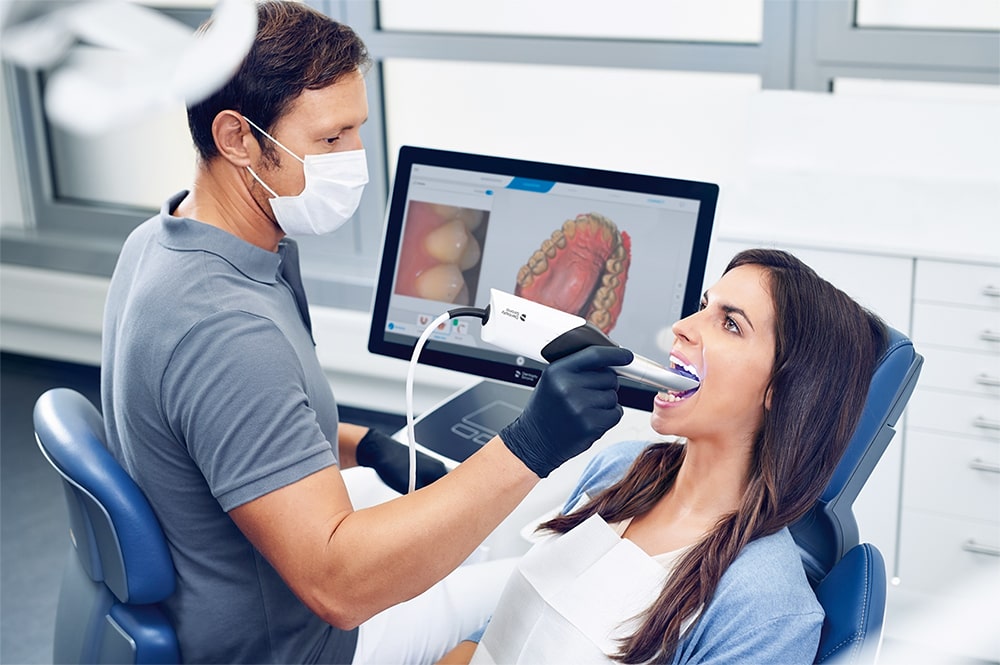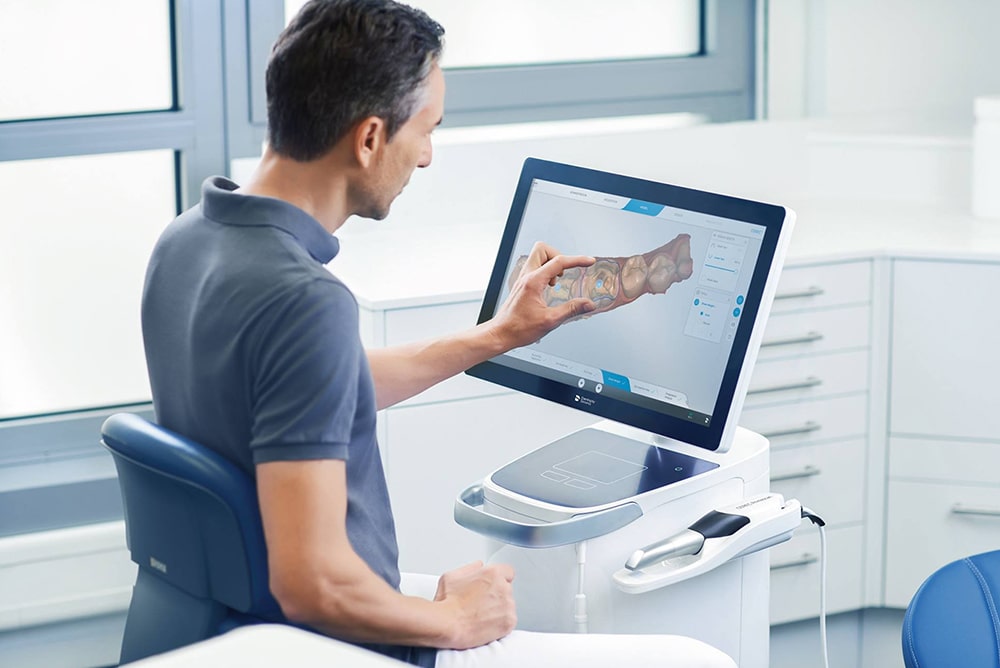 Omnicam AC – Proven reliability
Omnicam AC delivers proven reliability that fosters practice growth and allows for better patient care. If you are looking to grow your practice by adding clear aligner and simple implant cases, Omnicam is the right scanner for you. You can easily share the scan data with your lab or external partners like Invisalign.
Multi-use functionality for all relevant clinical applications, with over 7 million impressions* per year. (* Source: Internal data)
Small scanner head for easiest access.
Great accuracy and performance.
Cart allows for uncompromised ergonomics and facilitates patient communication.
Whether you start your workflow with Primescan or Omnicam, Connect Case Center – Dentsply Sirona's unique portal for fast and easy collaboration – gives you the option to transmit your data securely and also anonymized, if desired. With one click, your laboratory or partner receives complete case information immediately. All Dentsply Sirona scanners include a Connect Case Center Inbox license which you can give to a laboratory or partner of your choice. You can also transfer the data with open STL format.
Choosing the right scanner depends on your individual needs and requirements. Regardless of whether you choose Primescan or Omnicam, you can be sure that Dentsply Sirona is the right choice for all your digital needs.