Orthodontic Aligners
One month left of 50% off MediMatch Aligners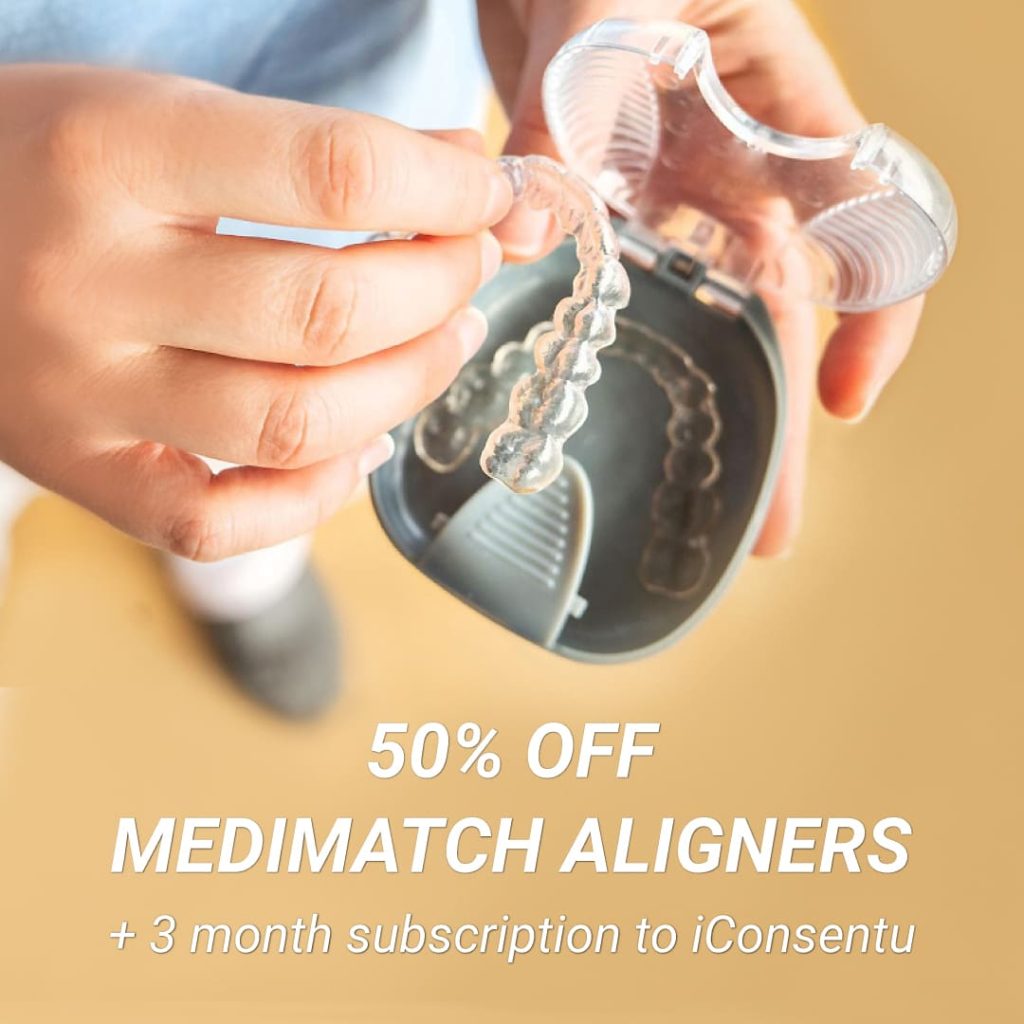 In 1997 the first clear aligner system was invented by two Stanford University students, Xia Chishti and Kelsey Worth, known as Invisalign. Their concept contained a series of clear, plastic, removable aligners that could be used to provide discreet orthodontic treatment to adults. For a long time Invisalign dominated the market. But today there are multiple alternative clear aligner providers ranging from cheaper aligners being operated from a remote business model where there are virtual orthodontist and DIY impression taken, to the more expensive Invisalign that have a high level of patient care. At MediMatch we bring you the MediMatch Aligners which offer your patients the high-end quality that is cost effective.
What are MediMatch Aligners?
MediMatch Aligners are an invisible way to straighten your teeth. Also known as clear braces, clear aligners, invisible braces or invisible aligners, each clear aligner moves your teeth a small amount until the required position is achieved. MediMatch Aligners are created using the latest digital technology and manufactured to your dentists' prescription using crystal clear, impact resistant orthodontic grade materials.
They are clear, removable, comfortable and convenient. As a leading clear brace manufacturer, we use the latest custom made digital scanning technology. MediMatch Aligners clear braces fit with your patients lifestyle.
Our digital department is composed of expert digital dental technicians and boasts the latest technology. For best result send digital impressions.
MediMatch Aligners are compatible with most intraoral scanners.
Aligner Products Available
Treatment Plan
We will send you an animated stimulator to show the tooth movements.
Individual Aligner
Aligner patients should visit their surgery every 2 weeks for monitoring.
Monitoring
We can help you monitor via the monitoring box.
Suitable for
Healthy teeth that require some minor movement to be in perfect alignment.
What to send
Full Arch upper and lower scan impression or Silicone impression.
Silicone, or wax bite.
Completed lab prescription form.
Protocol
1st STEP (in surgery)
Initial consultation with patient.
Take pictures.
Determine the desired results.
Scan the patients mouth.
Send scan to scan@medimatch.co.uk
2nd STEP (in lab)
Technician will create a treatment plan, and will email you a link with the animation of the treatment plan.
3rd STEP (in surgery)
Show the animation to the patient.
Discuss the treatment plan with the patient.
Inform lab if you would like to go ahead or cancel the case.
4th STEP (in lab)
Technician will print the first aligner and will send it to surgery.
5th STEP (in surgery)
Check the fit of the aligner.
Inform lab if there are any problems with the fit and take a new scan.
Case examples before after
This patient did not like the fact that their upper lateral tooth stuck out, compared to their other teeth. A combined approach of MediMatch Aligners and interproximal reduction was used to successfully treat this simple case.
Treatment time: 3 months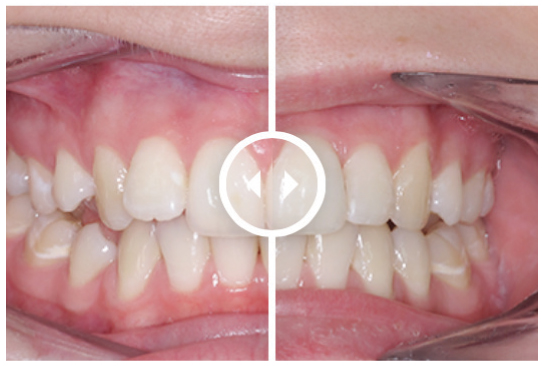 ---
This patient requested MediMatch Aligners to improve their upper and lower teeth. The upper arch was moderately overcrowded and the lower mildly overcrowded. Both arches were treated with MediMatch Aligners and some conservative interproximal reduction.
Treatment time: 4.5 months

---
A dramatic result for this patient who required a lower front tooth to be extracted in order to solve the severe overcrowding issue. The upper teeth were also treated with MediMatch Aligners due to the mild overcrowding.
Treatment time: 9 months

---
MediMatch Aligners are not just suitable for the younger generation. This mature patient suffered from overcrowding on their upper and lower arches. A great result was achieved by using a series of clear MediMatch Aligners to rotate and tip the teeth into their new position. In addition to moving the front teeth, the upper pre-molars were also moved in order to improve the patients' bite.
Treatment time: 7 months