Leading Dental Materials for 3D Printing
NextDent C&B Micro Filled Hybrid is a biocompatible Class IIa material developed for crowns and bridges. The balance between inorganic fillers and the resin gives the material its strength.
The material is easy to finish and polish, and can be stained with all types of composite staining kits. Due to the perfect balance between opacity and translucency the printed crown blends in perfectly between the existing teeth.
NextDent C&B MFH Shade suggestions
Micro Filled Hybrid 3D Print resin for the manufacturing of long term tempories, C&B and usable for denture teeth.
Place note
This shade card is provided to help with the selection of MFH shades offered, NextDent will not take responsibility for any issues caused by following the presented shades on this card. The product is not fluorescent.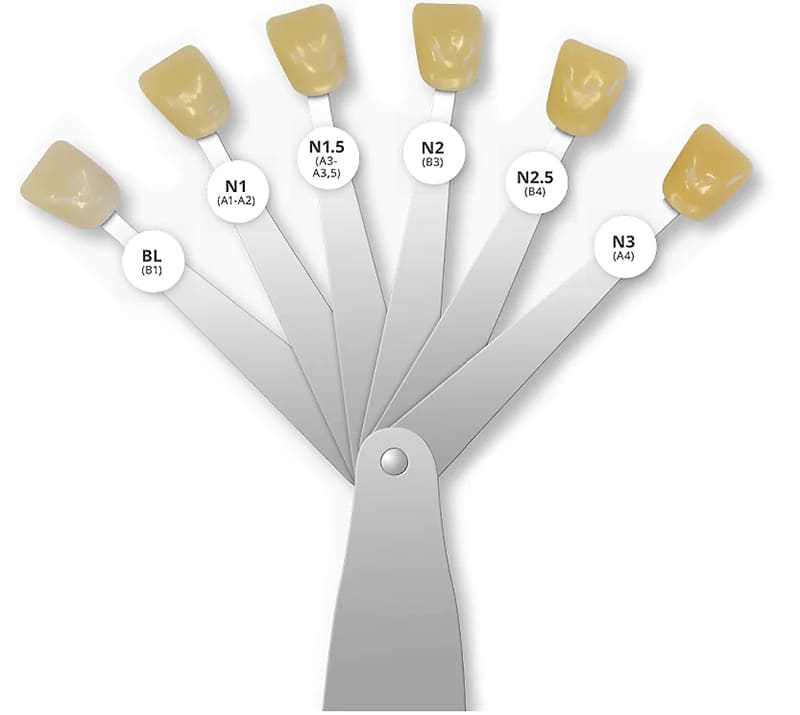 Specifications
| | | | |
| --- | --- | --- | --- |
| Property | Requirement | Result | ISO standard |
| Flexural strength | ≥ 50 MPa | 107 | ISO 10477 |
| Sorption | ≤ 70 µg/mm3 | 54 | ISO 10477 |
| Solubility | ≤ 15,5 µg/mm3 | 5,9 | ISO 10477 |
| Biocompatibility | Non-cytotoxic | Comply | ISO 10993-1 |
| Biocompatibility | Non-mutagenic | Comply | ISO 10993-1 |
| Biocompatibility | Not induce any erythema or edema reactions | Comply | ISO 10993-1 |
| Biocompatibility | Not a sensitizer | Comply | ISO 10993-1 |
| Biocompatibility | Not cause systemic toxicity | Comply | ISO 10993-1 |