STERILE
NO AIR LEAKAGE AT HANDPIECE HEAD
Electrically-driven, no air leakage at handpiece head,
less postoperative complications (e.g. emphysema)
Over 50% aerosols fewer than air turbines
Ensure safer treatment environment
STERILE SALINE
Two external irrigation lines available (sterilizable / single-use),
enabling the access to sterile cooling saline
Bring less postoperative pain and wound infection
HYGIENIC HEAD SYSTEM
Anti-suck-buck design to avoid blood and bacteria entering the head
Reduce cross infection, more reassuring to use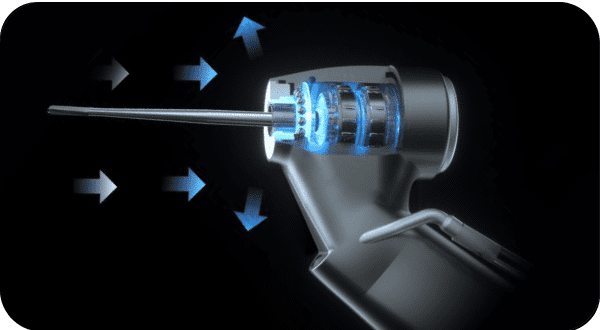 EFFICIENT 97,4%
More precise and efficient cutting – The ES5 provides up to 97.4% higher cutting efficiency compared to a regular turbine. Enables smooth surface cutting without scratching and pits.
MORE PRECISE AND EASIER CUTTING 3.5N-cm HIGH TORQUE MORE POWERFUL
Precise and adjustable speed, less heat generation, more stable and accurate cutting
Lower risk of bur breakage and iatrogenic injury
Constant speed, allowing uninterrupted and reliable cutting experience
Better control of the preparation design, neatness visibility of margins and cavity line angles
Simpler operation, higher efficiency
HIGH PERFORMANCE BRUSHLESS MOTOR. MORE POWERFUL AND DURABLE
Specially designed for surgery, 3.5N -cm high torque, low noise
LED lighting system with > 40000Ix illumination intensity guarantees clearer surgical field
Built-in air pump to reduce motor and handpiece operating temperature
Built-in cooling fan to lower main unit temperature rise
Enjoy 3 times longer handpiece service life
FLEXIBLE
DUAL WATER SUPPLY SYSTEMS
System 1:
Attached water tank for distilled or pure water, used with the internal water channel handpiece.
System 2:
External sterilizable or single-use irrigation line, used with the external water channel handpiece. Deliver excellent oral surgical results thanks to lowered risk of surgical infection, accelerated wound healing and minimized complications.
Compatible with various handpieces, with 8 pre-programmed settings for speed ratios:
Surgical Mode (External Saline): 1:1, 1:3, 1:4.2, 1:5
Restorative Mode (Internal Water): 16:1, 1:1, 1:4.2, 1:5
2 Working Modes, 8 Speed Ratios, 6 Pre-set Programs.
Includes 1000ml (1L) water tank for distilled / treated water or switch to a saline supply with sterilisable irrigation tubes. Two external irrigation lines available, Autoclavable or Single-Use for ultimate infection control and safe, cooling supply of saline for better postoperative recovery.
Electronically driven handpieces, prevents any air leakage at the handpiece head to avoid post-operative complications and air embolism. Provides a 50% reduction in aerosols compared to those produced with Airn turbine treatments. For a safer operating environment.
Technical Specifications
| | |
| --- | --- |
| Main Unit Dim. L x W x H (Excluding water tank) | 155mm x 167mm x 227mm |
| Water Tank Dim. LxWxH | 103mm x 67mm x 227mm |
| Input Voltage | AC 100V-240V |
| Permissible Voltage Variation | ±10% |
| Rated Current | 0.1A-0.8A |
| Frequency | 50Hz/60Hz |
| Power Supply Fuse | 2xT1.6AL 250V |
| Input Power | 180VA |
| Cooling Water Flow Rate at 100% Water Volume (Surgery Mode) | 120mL/min |
| Air Supply for Atomization (Restoration Mode with Atomization Function} | 1.5mL/min |
| Quality and Hardness Requirements for Water in the Water Tank | Distilled water or pure water with hardness <6.5mmol/L |