All on 4 / All on 6
A great solution for full arch restorative work using only 4 or 6 implants.
What to send
Primary impression in stock tray for pick up transfers.
Guide to produce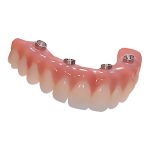 A step by step guide to produce an all on 4 porcelain bonded to non-precious metal bridge.
Read more