Key-Way or Dove Tail Solutions
Cercon Zirconia
Porcelain Bonded or Full Metal
Non-Parallel Retainers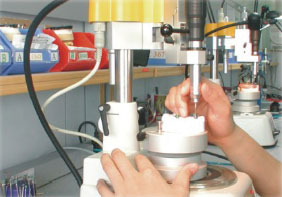 Key Key-Way or Dove Tail overcomes nonparallel preparations and allows for an optimum path of insertion. In situations where two retainers do not allow a convenient path of insertion, it is still possible to make a bridge restoration. The use of a Key Key-Way allows a parallel path of insertion.
The Key Key-Way can also reduce the vertical forces on a retainer or a pontic.
Key Key-Ways can be cast in different type of alloys or can be milled out of a solid block of Zirconia.