Ultrasonic Scaler UDS E-Led by woodpecker is a multi-function scaler that works in three different modes i.e general, perio and endo with a feature of an automatic frequency tracking system The scaler is equipped with an optical handpiece, providing greater convenience during clinical procedures. It allows for easy handling and maneuverability, ensuring precise and efficient operation. Additionally, the scaler features an auto-water supply function, which simplifies the process and enhances usability.
One notable aspect of the UDS-E LED scaler is its inner water pipe, constructed from antiseptic material. This design enables the use of various clinical fluids such as hydrogen peroxide, chlorhexidine, and sodium hypochlorite with the auto-water supply system. As a result, the performance of perio and endo procedures is significantly improved.The handpiece of the scaler is detachable and can be autoclaved at temperatures up to 134°C and pressures up to 0.22MPa. This ensures proper sterilization and hygiene maintenance, meeting the stringent standards of dental practice.
Automatic frequency tracking is another key feature of the UDS-E LED scaler. This technology ensures that the machine consistently operates at the optimal frequency, providing stable and reliable performance throughout dental procedures.
With its cutting-edge features and functionality, the UDS-E LED scaler represents a new generation of dental instruments in the global market. It is designed to meet the needs of dental professionals, offering exceptional performance, convenience, and reliability.
Features
Multi-function scaler with three modes: general, perio, and endo.
Automatic frequency tracking system for stable and reliable performance.
Optical handpiece for easy handling and maneuverability.
The inner water pipe allows the use of various clinical fluids with an auto-water supply.
The detachable handpiece can be autoclaved for proper sterilization.
Enhances perio and endo procedures.
Cutting-edge design and functionality for exceptional performance.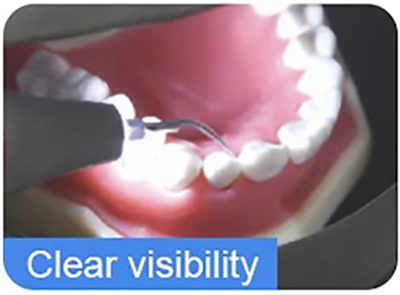 Effect with LED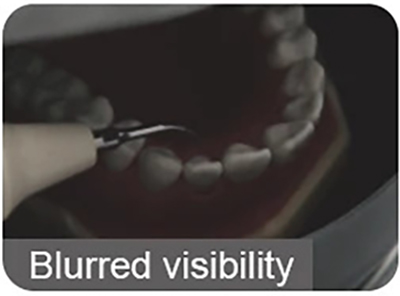 Effect without LED
Detachable LED Handpiece
Made of top-grade aviation materials from the United States, the handle is less prone to cracking. Using top-grade titanium alloy from the United States, its performance is superior. The illuminated handle provides a wider field of view.
Key Specifications Woodpecker UDS-E Ultrasonic Scaler
| | |
| --- | --- |
| Power Supply Input | 220-240V, 50Hz/60Hz, 150mA |
| Main Unit Input | 24V, 50Hz/60Hz, L3A |
| Primary Tip Vibration Excursion | ≤100μm |
| Half-Excursion Force | <2N |
| Output Tip Vibration Frequency | 28kHz+3kHz |
| Output Power | 3W to 20W |