Give your practice a new dimension
Propel your practice into new dimensions, with the iTero Element 5D imaging system.
Aids in detecting proximal caries through near-infrared images without harmful radiation
Records 3D impressions and real colour photographs
And enables tracking of changes in oral health over time and treatment outcome simulation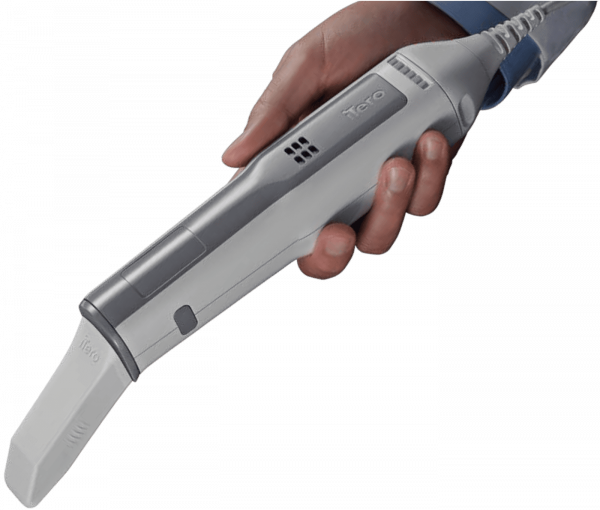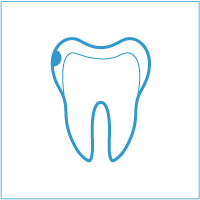 Proximal caries
detection aid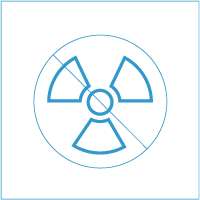 No harmful
radiation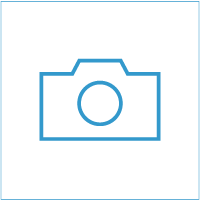 Intraoral
camera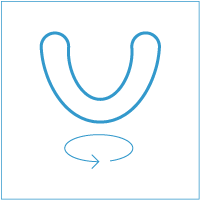 3D digital
impressions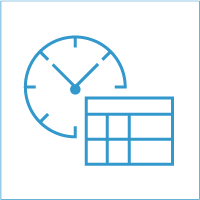 Real-time
TimeLapse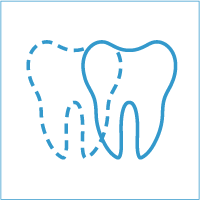 Simulation
capability
Introducing the first 3D intraoral scanner that can distinguish internal tooth structure and aid in caries detection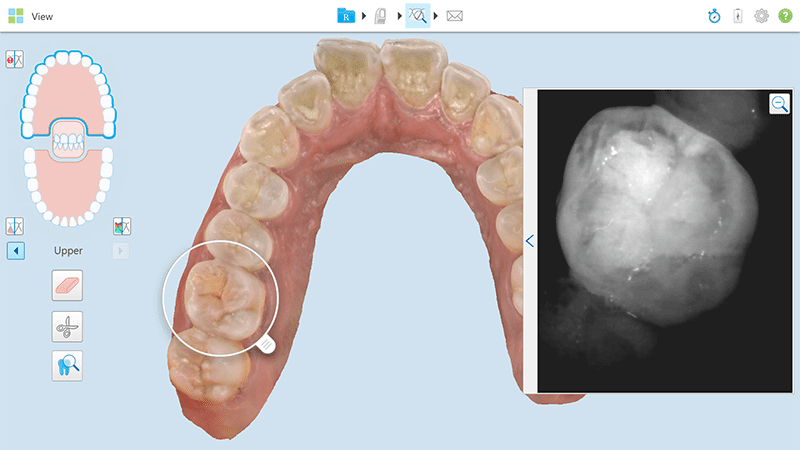 Near infrared imaging (NIRI) technology
Scan your patients' teeth in real time and watch as iTero Element near-infrared imaging (NIRI) technology reveals the internal tooth structure and any interferences without using harmful radiation.
Aids in detecting and monitoring proximal caries by scanning at every routine appointment, without using harmful radiation
Distinguish enamel and dentin structure for even better prosthetic design
Support your diagnostic capabilities for comprehensive preventive and restorative oral care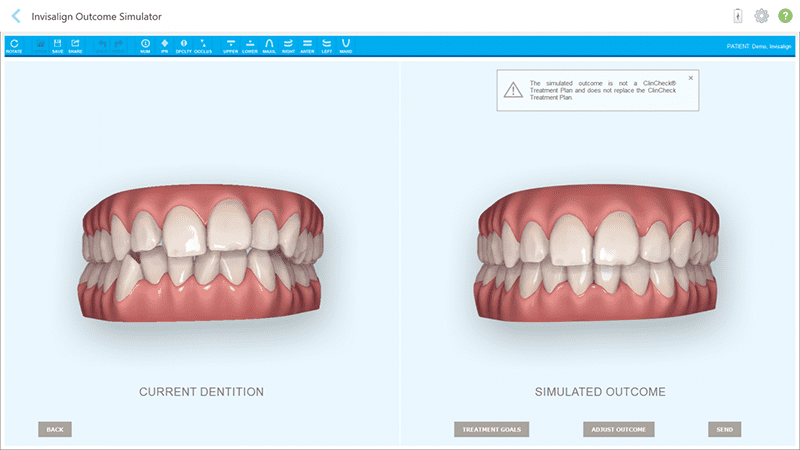 Outcome Simulator
The iTero Element Outcome Simulator is a popular feature for patients. It creates a one-minute alignment demonstration for the patient, using the scans to create a time lapse simulation.
With Invisalign Outcome Simulator, you can quickly and easily demonstrate to your patients how teeth can move. Then use the Invisalign Progress Assessment tool throughout treatment to inspire confidence and motivate compliance with a tailored plan.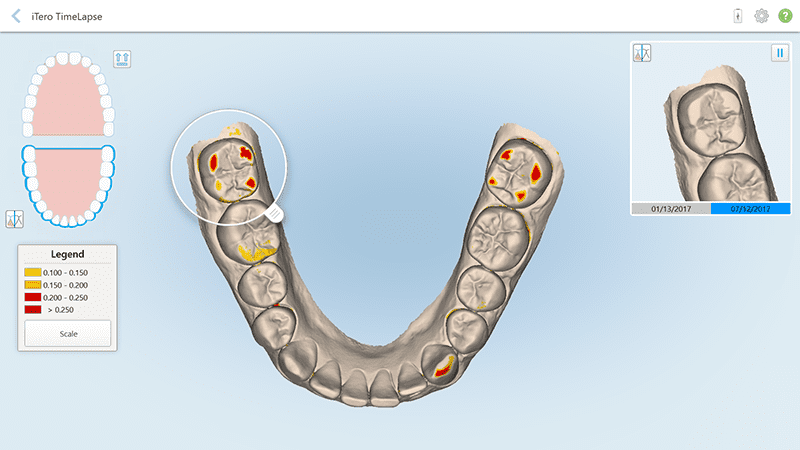 TimeLapse
Scan at every visit to collect comprehensive digital records. The innovative feature TimeLapse enables you to forecast issues and diagnose problems by comparing different scans.
Using iTero TimeLapse technology, you can engage and educate your patient with 3D visualisations of their oral health over time—from changes in tooth movement, to tooth wear.
Optimise your restorative workflow
Elevate your dental expertise with iTero's comprehensive imaging system
Change the way you run your practice with a system that helps improve efficiency, processes and outcome. Identify the need for in-chair prep alterations, project the fit per material type, or re-scan for model accuracy without recalling the patient.
Leverage a network of over 3,000 labs worldwide
Send restorative STL files directly to your lab or have our team of qualified technicians clean and prepare your scans for you
Export scans directly to compatible chairside CAD software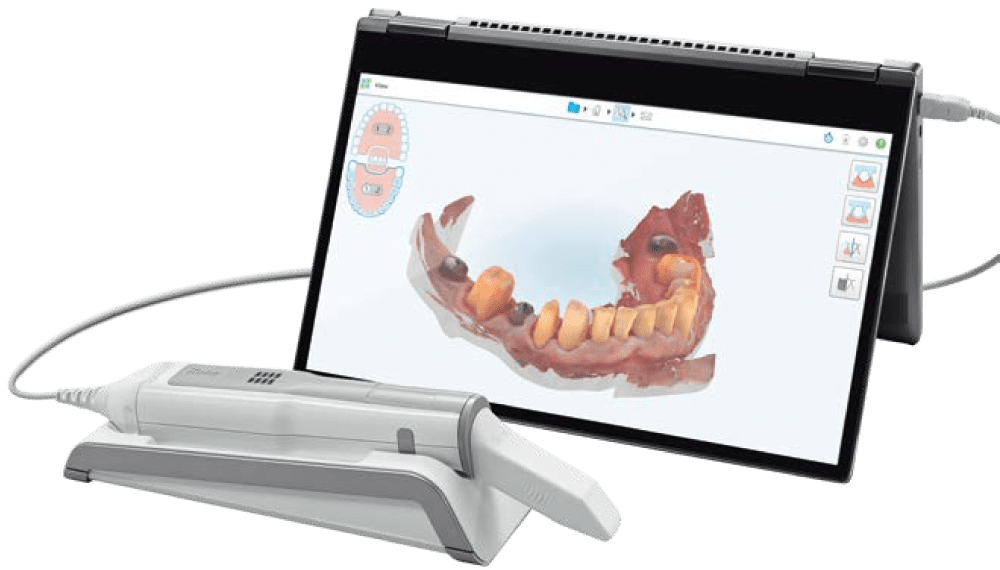 Over 3.2 million restorative scans performed worldwide.1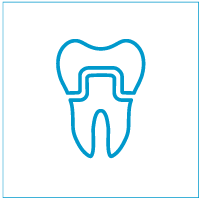 Crowns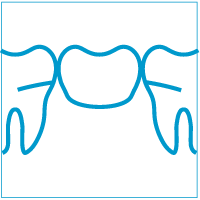 Bridges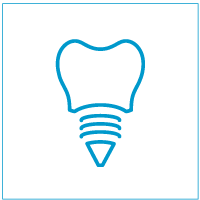 Implant abutments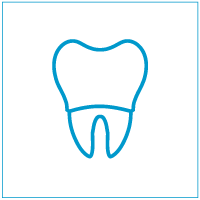 Veneers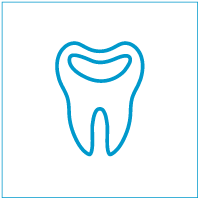 Inlays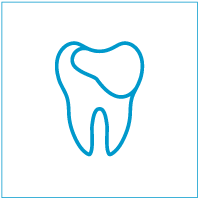 Onlays
The iTero Element orthodontic software is a comprehensive platform to service your orthodontic practice needs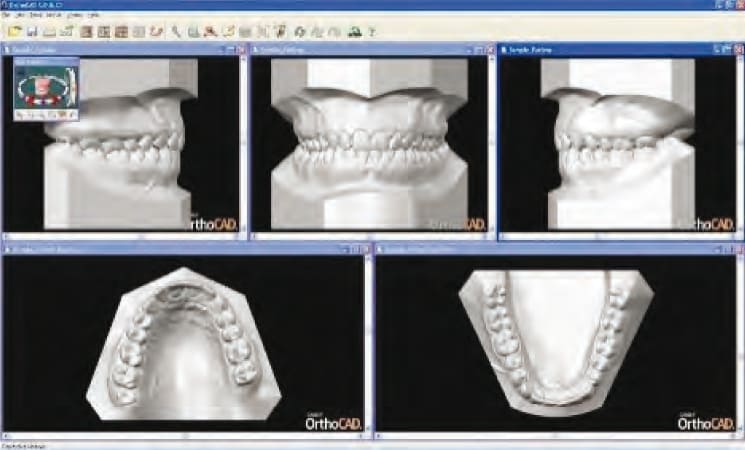 Gallery view for case presentation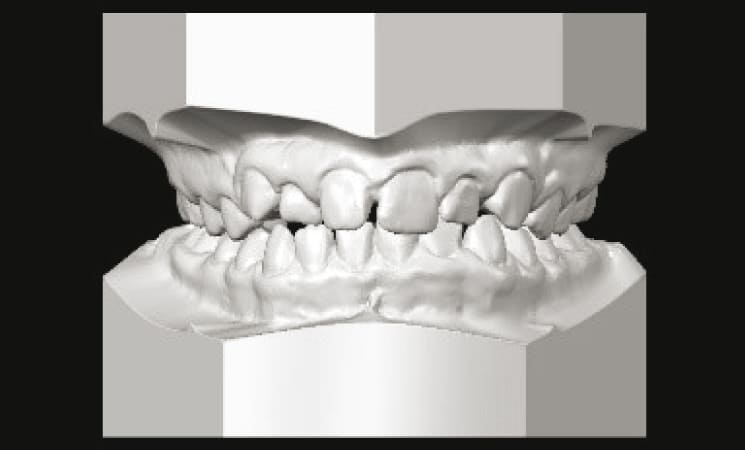 Model with full ABO base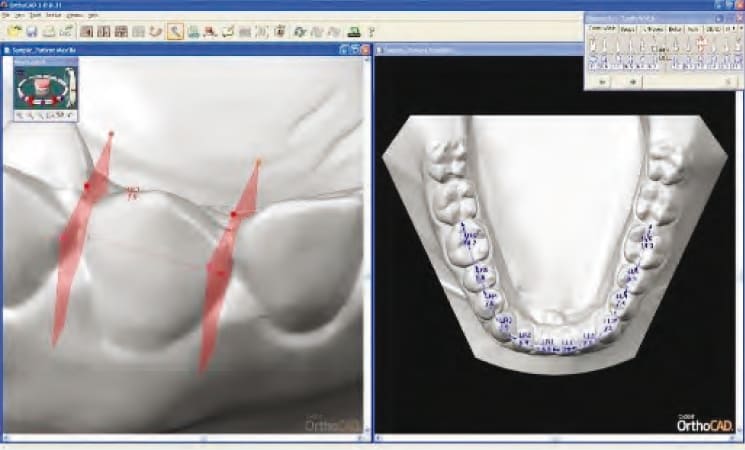 Measurement tools
OrthoCAD software integration
With tools for digital analytics and practice management integration, OrthoCAD software helps to ensure that your workflow moves smoothly from performing orthodontic measurements to syncing up patient records.
Digital analytics tools include: teeth width, space, T-J Moyers, Bolton, arch width, canine distance, and overbite/overjet measurements, including point-to-point, point-to-plane, and plane-to-plane measurements.
Open STL export
iTero iRecord STL files are open to send directly to your lab or to export from your iTero cloud account. Scans can be sent to third-party treatment planning providers and can also be exported for integration with cone beam CT data.
Lab connectivity
Send iRecord scans directly to the lab to quickly and easily process orthodontic appliances, retainers, printed models, indirect bonding and more.
Our roots are in restorative
Restorative file interpretation
The iTero modeling process helps to ensure efficient laboratory submission, minimize scan retakes and enable consistent restorative outcomes.
Chairside milling integrations
Our collaborations with Glidewell.io™ and Exocad allow you to export scans directly from the iTero Element interface to CAD software and milling partners, for faster, more precise restorations.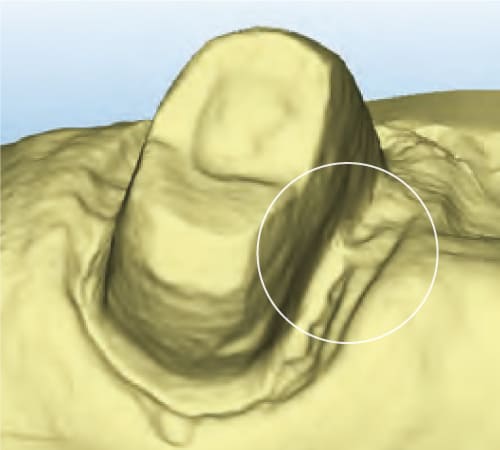 Before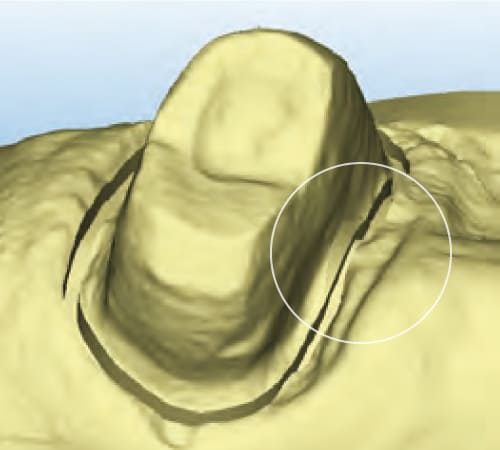 After
Technical Specifications iTero Element 5D Plus Lite Intraoral Scanner
Monitor
21.5" Full HD (1920×1080) touch screen
Wand
The wand emits red laser light (680nm Class 1), as well as white LED emissions and 850nm LED emissions.
Wireless LAN
A LAN card provides local network communications with wireless connectivity
2.4GHz, 5GHZ
802.11ac
Security
See the product security whitepaper in appendix C.
Operating Power
100-240 VAC- 50/60 Hz-300VA (max)
Operating Temperature
18°C to 26°C / 64.4°F to 78.8°F
Storage/Transportation
Temperature
-5°C to 50°C / 23°F to 122°F
Operating Pressure and Altitude
Pressure: 520 mmHg to 771 mmHg (-69 kPa to -103 kPa)
Altitude: -400 feet to 10,000
Storage/Transportation Altitude
Pressure: 430 mmHg to 760 mmHg (~57 kPa to ~101 kPa)
Altitude: 0 feet to 15,000 feet
Relative Humidity
Operating: 40% to 70%
Storage: 30% to 90%
Dimensions
iTero Full HD touch screen:
Height: 356 mm (~14 in)
Width:544 mm (~21.5 in)
Depth: 60.5 mm (~2.3 in)
Wheel stand:
Height: 1279 mm (~50.3 in)
Width: 544 mm (~21.4 in)
Depth: 562 mm (~22.1 in)
Wand:
Length:346 mm (13.3 in)
Width:50 mm (~2.0 in)
Depth: 68 mm (~2.7 in)
Cable length
Power cable: 3000 mm
Wand cable: 1830 mm
Net Weight
Monitor: 10.5 kg (~23.1 lbs)
Wand: 0.47 kg (~1 lbs.) without the cable
Wheel stand: 12.5 kg (~27.5 lbs)
CPU Specifications
Intel® Core™ i7
GPU Specifications
Nvidia T1000
Battery
Integrated battery for uninterrupted scanning and ease in office portability without plugging in or rebooting, providing:
At least 30 minutes of active continuous scanning
2.5 hours for full recharge
Scanner and wand crosscontamination protection
Single-use, disposable sleeves
Accessible ports
USB Type A and Type C are accessible to the user (Type B is the wand port)
Scanning technology
Parallel Confocal technology
Scanning properties
Field of view: ≤12 x 12 mm
Depth of scan: ≤16 mm
No hovering required – scanning can be done at a distance of 0 mm
No field calibration needed
Flexible scanning protocol (start anywhere, auto stitching)
Automated heating of the tip to avoid fogging of the lens
Scan time
Full mouth can be completed in as little as 60 seconds.
AI Scan Assistant
Auto-trimming tool: Provides a 3D model cleaned from excess scan material
Auto-margin marking tool: Provides automatic marking of the margin line on crown cases
Cloud storage
Data can be stored and accessed on the web using cloud storage and the MyiTero web portal
**the fully integrated 3D intraoral camera is available in the iTero Element 5D Plus and iTero Element 5D Plus Lite imaging systems.
*** Data on file at Align Technology, as of, December 22, 2020.