Take your practice to the next level!
ChairsideCAD is single-visit dentistry and much more. Utilize the software for design, collaboration with your preferred lab, esthetic planning and for communication with patients. Exocad software serves as the centerpiece of your digital workflows.
ChairsideCAD is the first complete open-architecture CAD software platform for single-visit dentistry. The chairside workflow is streamlined, easy to learn and optimized for use in the practice, with its step-bystep guide through the design process. It is based on the same proven technology as exocad's "bestof-breed" lab software, renowned for its reliability and robust features. In just a few steps, exocad's ChairsideCAD creates highly esthetic proposals with minimal post-processing.
Make the most of your intraoral scanner with ChairsideCAD. Thanks to our open platform, a wide range of scanners, production systems and materials are supported. For cases not produced in your practice, you can take advantage of the integrated communication platform dentalshare to easily collaborate with the lab of your choice.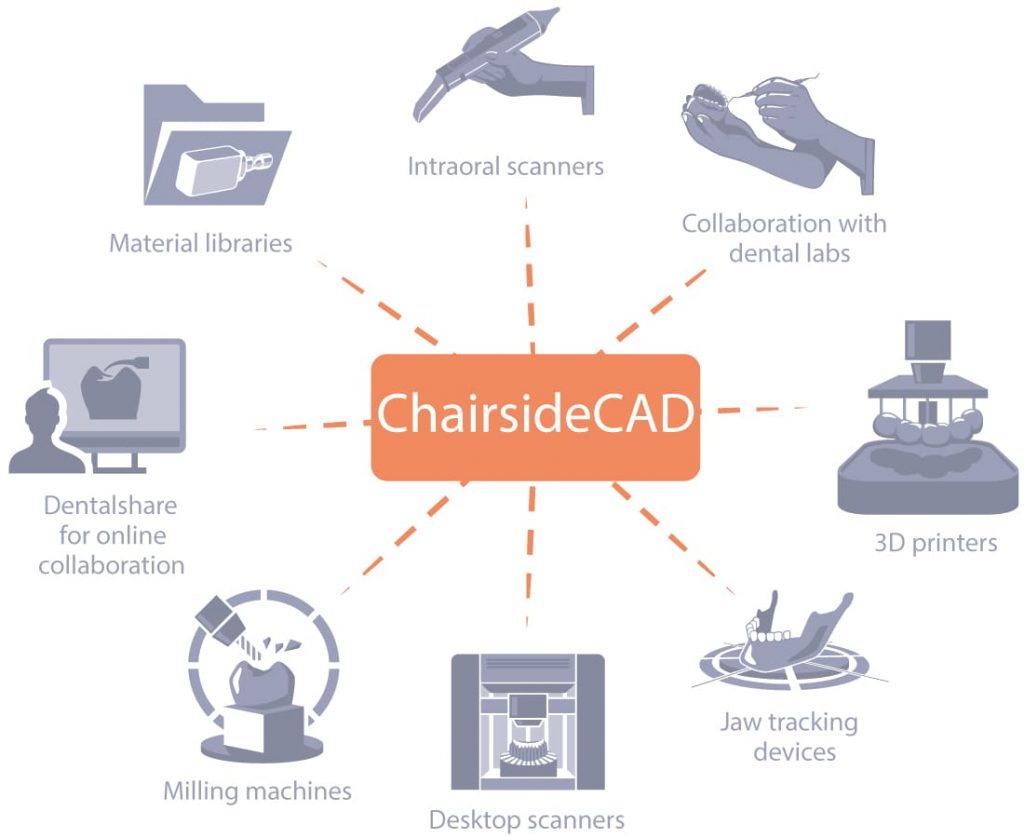 ChairsideCAD supports you in designing various esthetic and functional dental restorations and appliances while the patient is still in the chair. Thanks to its simplified, intuitive user interface and open tooth and material libraries, a high level of automation and consistent results are ensured.
Your benefits at a glance
Enjoy ease of use
ChairsideCAD is fast and easy to handle, no extensive training is necessary
Improve patient satisfaction
ChairsideCAD helps you realize same-day restorations in the dental practice
Create esthetic and functional restorations
ChairsideCAD is easy to learn and guides you step-by-step through the process
Increase your efficiency
ChairsideCAD enables you to realize restorative dentistry during one single patient's visit to the practice
Opt for in-house or outsourced production
ChairsideCAD offers flexible workflows
Keep your flexibility
ChairsideCAD supports almost all changes you make to the workflow, equipment, or services in your practice
Collaborate effortlessly with partners
ChairsideCAD facilitates your communication with dental labs and production centers for improved and predictable outcomes
Maximize your return on investments
ChairsideCAD enables you to integrate open hardware and materials of your choice
Work with your existing equipment
ChairsideCAD supports file formats for open scanners, CT machines, 3D printers and milling machines
Expand your service offerings
ChairsideCAD can be upgraded with various add-on modules according to your needs
Profit from an unlimited number of cases
ChairsideCAD has no hidden costs or click fees
Benefit from our proven software platform
exocad software has been established for 10 years