The Vhf E3 Dental Milling Machines – automate your workflow.
The Vhf E3 is simple to commission and operate, and fits seamlessly into your workflows. Our in-house developed TRIMCAM software automatically recognizes the trimline on which the occlusal appliance is milled out from the available planning data. So, you'll get started right away.

Powerful 800 W 60,000 rpm spindle.

Quick and easy trimming of other occlusal appliances.

Full machining of aligners in under 60 seconds.

Maximum freedom of installation site as the machine requires no compressed air.

No tool change necessary with ONETOOL technology.

CAM software and easy operation with the integrated CAM software TRIMCAM, with no license fees.
True to the motto: unpack, connect, start milling!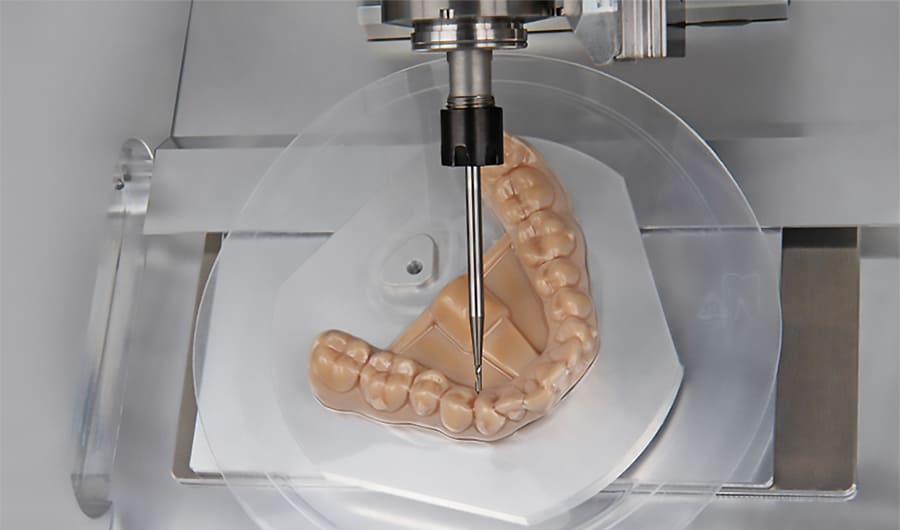 Benefit from the machining of aligners in under 60 seconds. This saves you a lot of time compared to manual production – and on top of that you gain the high precision of CNC production.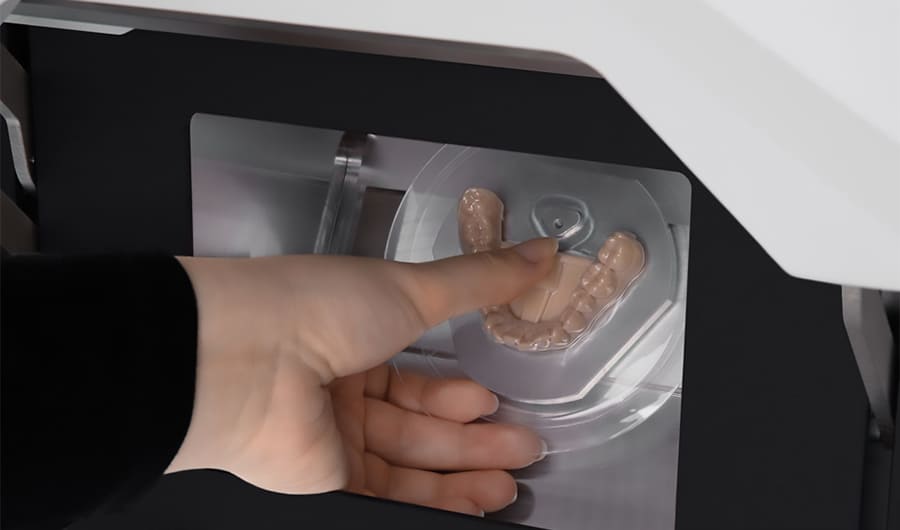 The tool-free clamping system further simplifies your work processes. This quick workpiece change enables you to produce entire series of aligners quickly and easily.
With a machine weight of only 25 kg and no use of compressed air, the compact Vhf E3 offers maximum flexibility in terms of the installation site. Meticulous attention has been paid to the details: for example, no separate extraction system is required – thanks to the practical collection tray for chips.
100% developed and manufactured in Germany, the Vhf E3 impresses with its precise results and outstanding reliability – not only for aligners, but also for bite splints, grinding splints and other splints, including sports mouthguards. Despite its compact design, the interior of this machine contains only high-quality industrial components.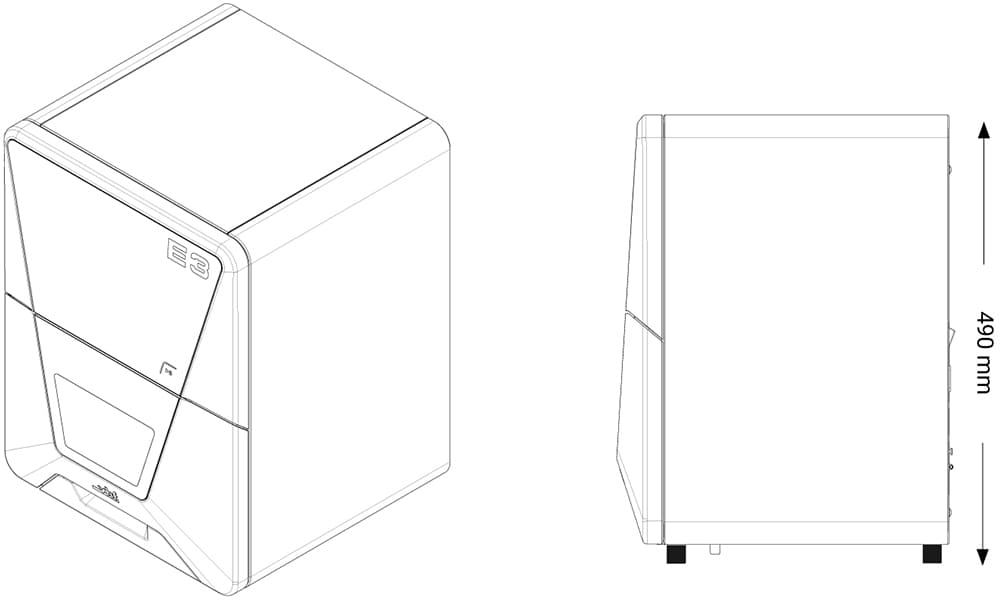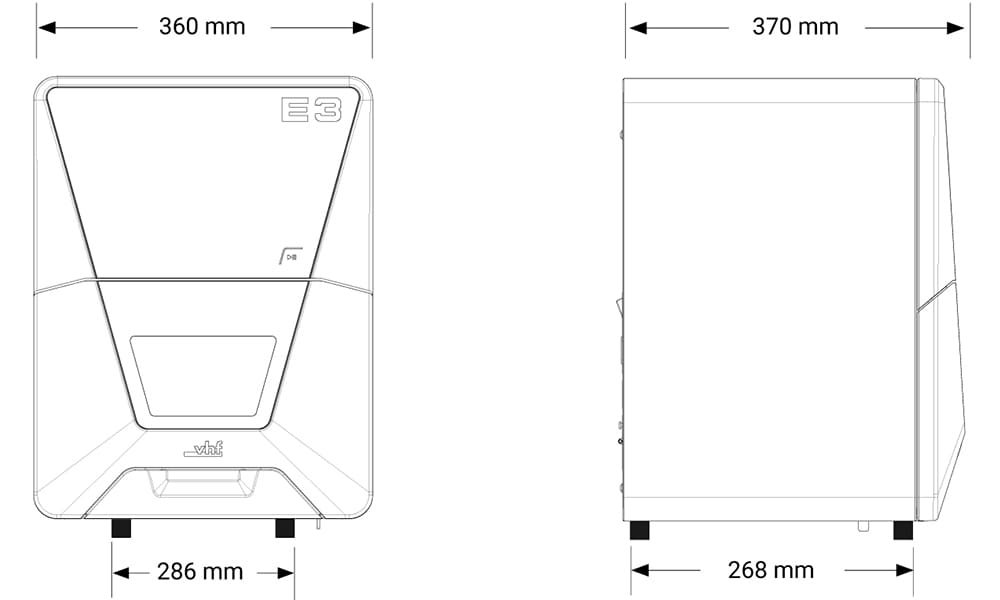 Vhf. Creating Perfection.
With more than 30 years of experience, vhf is a leading manufacturer of dental milling machines. As a CAM full-service provider, vhf meticulously develops and produces each individual milling machine and the perfectly matched tools and software all in-house. Everything from a single source. Made in Germany.
Technical Data Vhf E3 Dental Milling Machines
Fields of application
Dry machining
Materials
Thermo-formed plastic foil
Indications
Aligners and other splints
Holder systems
Holder for tool-free clipping in of the aligners
Construction
Sturdy aluminum structure
Housing
White high-gloss lacquer finish · upward opening lift door to the workroom
Number of axes
3+1
Linear axes
X-/Y-/Z-axis
X-axis: rack and pinion drive · Y-/Z-axis: trapezoidal screw spindles · motor resolution 10 μm · max. axial backlash 0.06 mm
Rotary axis B-axis
Rotation angle: 360°, infinite
Control unit
Control electronics with continuous path progression and dynamic pre-calculation · hardware-based real-time operating system with standardized instruction set · FPGA-integrated processor · updateable hardware · real-time path and ramp calculation via dedicated hardware engines in the FPGA · four-quadrant control of the motors for particularly smooth running · multiple digital I/Os for controlling the peripherals · integrated inverter for synchronous and asynchronous motors, electronic gate detection · Ethernet and USB interface
Lighting
RGB LED lighting with status indication
General
High-frequency spindle with mechanical tool change
Speed
Up to 60,000 RPM
Power
Peak power (Pmax): 800 watts · continuous power (S1): 450 watts
Bearing
2-fold hybrid ceramic ball bearing
Collet
Collet type ER8 for tools with 3 mm shank diameter
Dry
Compressed air-free operation without suction
Power supply
100–240 volts · 50/60 Hz, 320 watts
Data
10/100/1000 MBit/s BaseT port (auto-sensing) Ethernet via RJ-45 socket
Operating temperature
Between 10 °C and 35 °C
Air moisture
max. 80 % (relative), non-condensing
All models
CE
North America model
UL 61010-1, CAN/CSA C22.2 No. 61010-1
Dimensions (W/D/H)
360 × 370 × 490 mm with closed door · 360 × 420 × 490 mm with open door
Footprint (W/D)
286 × 268 mm
Weight
25 kg
CAM Software
TRIMCAM software for aligner production included in the scope of delivery
Accessories
Calibration set incl. stirrup measuring screw · Torx driver · torque driver 1.5 Nm · cleaning brush · cleaning scrubber and microfiber cloth · radius cutter (2 pcs.) · clamping wrench · open-end wrench · power cable · Ethernet network cable