Dental Milling Machines Vhf E4 is the second machine of vhf's new EASE Class. It is ideal for the economic digitization of every dental practice. With it, the easy entry into same-day dentistry succeeds at a sensational price!

4-axis grinding and milling machine with a powerful 800 W 60,000 rpm spindle.

Mills all the common block materials up to 45 mm in length including glass ceramics, composites, zirconium oxide and plastics.

Quick and easy switch between wet grinding and optional dry milling.

Wet grinding with no grinding additives with PUREWATER technology and compressed air-free milling with AIRTOOL.

Automatic changer for 6 tools and an AIRTOOL.

Easy operation with the integrated CAM software DENTALCAM with DIRECTMILL technology – with no license fees payable.
The Vhf E4 offers you maximum freedom. It can be easily combined with any intraoral scanner. This makes it the ideal addition to your practice workflow when it comes to perfectly manufactured in-house dental restorations.
In terms of materials and indications, the Vhf E4 is a true all-rounder: As standard, you can use it to wet-grind blocks made of glass-ceramics or composites with a ceramic content. However, you can also convert the Vhf E4 into a dry milling machine in just a few steps. Simply insert the optional dry container and you can produce dental restorations from materials such as zirconia, PMMA and other composites.
And like the Vhf E5, the Vhf E4 works completely without compressed air. Thus, it neither requires an external connection for compressed air nor does it have a built-in compressor – thanks to vhf's patent-pending AIRTOOL. Thanks to its low weight of only 28 kg, you can easily ship the machine by parcel service, which brings invaluable advantages especially in case of service.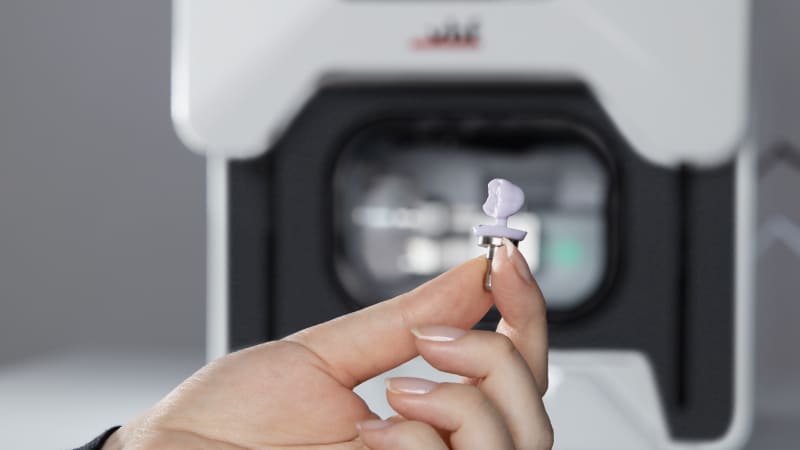 Produce perfect restorations chairside: the compact machine without compressed air connection can be placed anywhere where a power connection is available. So, for example, directly in the treatment room, where the milling of the restorations will be a real eye-catcher.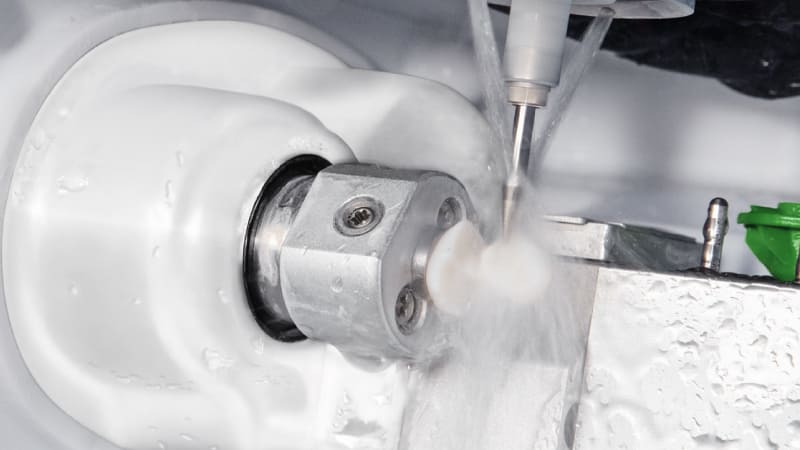 The Vhf E4 is a true multi-talent. By standard, it is equipped for wet grinding of blocks which are made of glass ceramics or composites with ceramic content.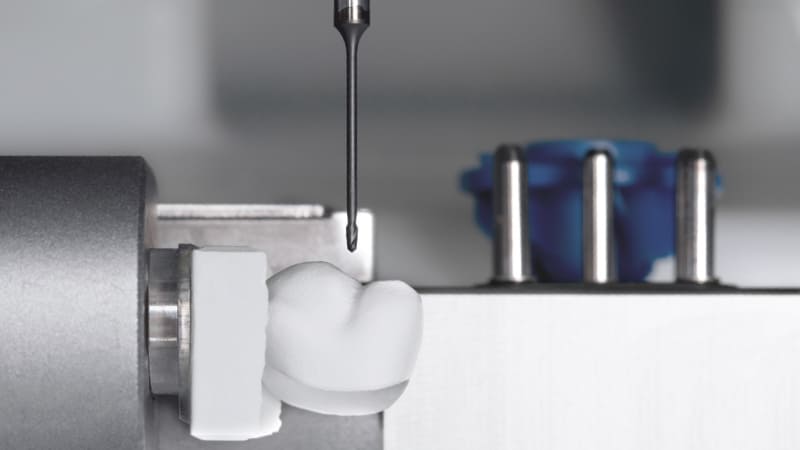 With the optional dry container, the Vhf E4 can also dry mill materials such as PMMA, composites or zirconia.
Milling of a composite block with the patent-pending AIRTOOL, which blows away chips from the workpiece. In the background: the removable tool changer with space for six tools and an AIRTOOL.