Features Ivoclar Programat Furnace P310 G2
Dynamic colour concept
Ergonomic shapes and forms
Optimised cooling tray for more space and better cooling
Fast and high-quality firing results due to infrared technology
IoT function for free monthly equipment usage reports
Preset programs and material groups
New membrane-sealed keypad with proven colour touchscreen display
New user interface featuring new symbols and icons
Efficient and reliable performance due to software optimisations
Ivoclar Programat Furnace P310 G2 – your smart specialist for high-quality firing results
Modern. Intuitive. Smart. With the objective to meet the requirements of your dental laboratory. Proven technologies, such as the infrared technology, combined with new features – that is what makes the new Programat ceramic furnace your reliable specialist.
High process reliability due to infrared technology (IRT): The integrated thermographic camera is sensitive to infrared radiation and measures the temperature directly at the surface of the objects being fired. The furnace head and the heater are controlled with the infrared camera to ensure that the predefined pre-drying temperature is consistently maintained on the objects in the furnace.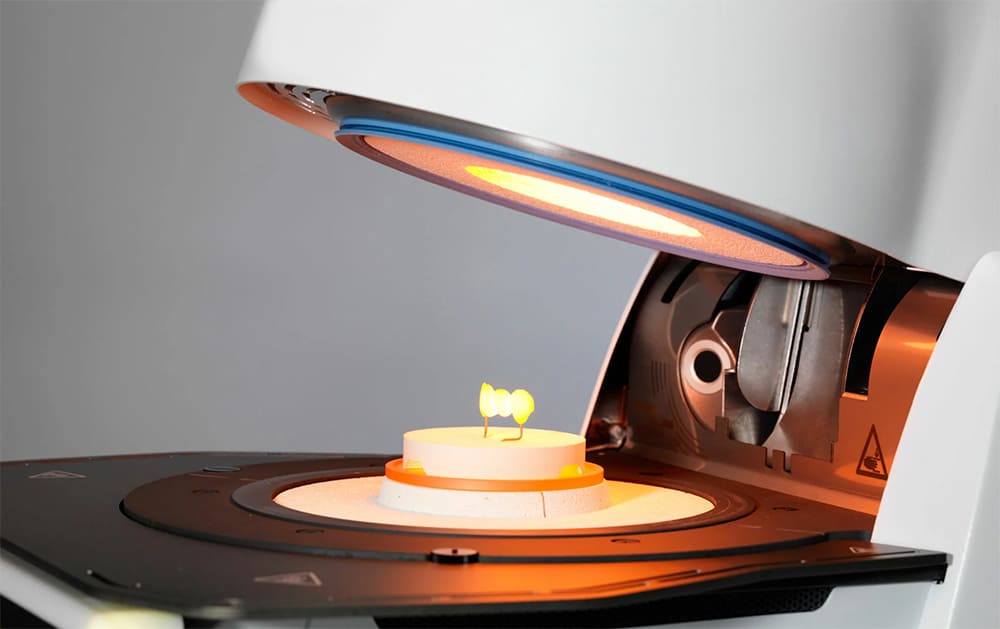 Modern design
Dynamic colour concept
Ergonomic shapes and forms
Optimised firing tray for more space and better cooling
High process reliability
Fast and high-quality firing results due to infrared technology
IoT function for free monthly equipment usage reports
Pre-set programs and material groups
Intuitive operation
New membrane-sealed keypad with proven colour touchscreen display
New user interface featuring new symbols and icons
Efficient and reliable performance due to software optimisations
Advantages Ivoclar Programat Furnace P310 G2
Cooling process controlled by IRT2
The infrared camera measures the temperature at the surface of the fired objects again during the opening process of the furnace. A slower and controlled cooling process prevents cracks and fractures. A notification is displayed as soon as the fired objects have reached the appropriate temperature to be removed.
QTK2 muffle technology with SiC bottom reflector
The QTK2 muffle together with the SiC bottom reflector ensures optimum temperature distribution and leads to optimum firing results.
Digital shade assistant (DSA)
The software compares the shade of the tooth to be analyzed with three pre-selected shade guide teeth on the screen. The shade guide tooth that comes closest to the tooth that is being analysed is shown on the screen.
Power Fail Save System
This system bridges short power interruptions of up to 10 seconds, without the program being aborted.
Automatic double-range temperature calibration (ATK2)
The ATK2 temperature checking system calibrates the temperature in the furnace fully automatically and accurately in two different temperature ranges. This ensures high-precision firing procedures.
Stand-by key to reduce power consumption
Efficient use of energy and responsible use of valuable resources: Ivoclar is committed to this goal. Therefore, our new Programat is equipped with the new Power Saving Technology. In the stand-by mode, the energy consumption of the furnace decreases by almost 40 percent. As a result, you save on electricity costs and help protect our environment. Look out for the "Power Saving Technology" label on the back of your device.
LAN and USB ports
The furnace can be connected to other devices, such as printers, USB flash drives and external hard drives. Software updates can be downloaded from a USB flash drive at any time.
Technical Data
Power supply
110 – 120 V, 50 – 60 Hz
200 – 240 V, 50 – 60 Hz
admissible voltage fluctuations ±10 %
Max. power consumption
12 A at 110 – 120 V
8.5 at 200 – 240 V
Vacuum pump data
Max. power consumption: 250 W
Final vacuum: < 50 mbar
Only tested pumps should be used
Dimensions of closed furnace
Depth: 465 mm
Width: 320 mm / 390 mm (with cooling tray)
Height: 320 mm
Dimensions of firing chamber
Diameter: 90 mm
Height: 80 mm
Max. firing temperature
1200 °C
Weight
15.6 kg
Safety information
The furnace is built according to the following standards:
– IEC 61010
– UL and CAN/CSA
Radio protection/ Electromagnetic compatibility
EMC tested