Open combination furnace for quick crystallization, sintering and glazing
The Programat CS6 is a sintering, crystallization and glazing furnace for the dental field. It was specifically developed for use in the dental office. The firing chamber may be heated up to max. 1560 °C (2192°F) by means of a heating element.
Furthermore, the firing chamber has been designed in such a way that a vacuum may be created with a vacuum pump. Electronic components with the corresponding software monitor and control the firing programs. Additionally, the set and actual temperatures are continuously compared.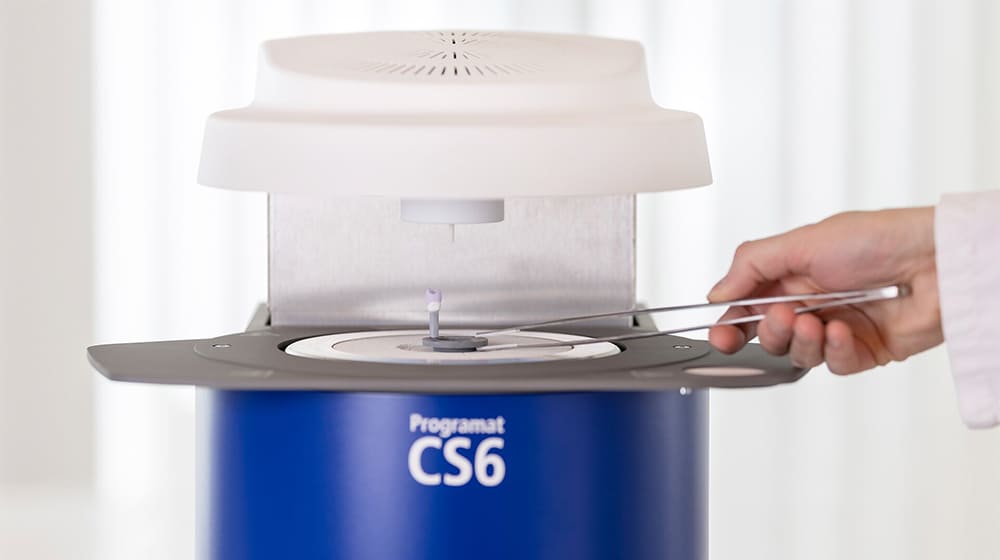 No longer sacrifice esthetics for speed; optimized for IPS e.max ZirCAD zirconia
✓
Proprietary vacuum technology speeds up sintering
✓
Outstanding level of esthetics is achieved despite the short program duration
✓
Optimized for IPS e.max ZirCAD MT Multi blocks
Designed for your practice
The new technology behind the Programat CS6 ensures that each case is quickly and consistently completed, allowing you to focus on your patients, not your furnace.
New Opening Process
Saving you even more time, the Programat CS6 supports and accelerates the pre-drying process through its innovative opening mechanism. This unique feature strategically controls the hot air rising from the firing chamber to dry restorations from underneath.
Color Touchscreen
Operating the Programat CS6 is simple and fast. Its modern color touchscreen is easy to use, clean, and is highly durable; ideal for any clinical environment.
Proprietary Vacuum Technology
The Programat CS6 features new vacuum technology which accelerates the sintering process, while simultaneously improving the esthetics of your zirconia restorations. Furthermore, this proprietary function assists in optimizing the crystallization and glazing processes.
LED Status Indication
The status of your restorations within the furnace can be easily monitored by looking at the optical status display (OSD) at the base of the furnace. The OSD indicates the operational status through color representation. Therefore, you are informed of the most important progresses of the furnace at first glance.
Temperature Calibration
You have full control over the temperature for consistent and reliable results. Temperature calibration can easily be conducted on site at your office.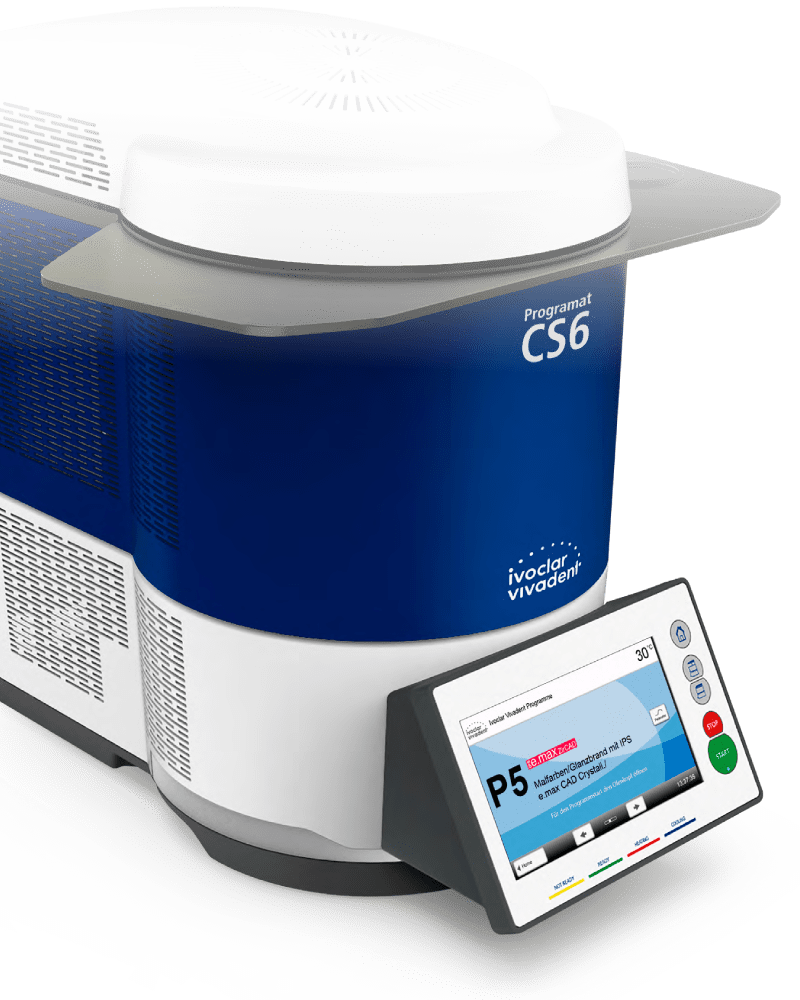 Open system Technical data
In addition to pre-installed programs for Ivoclar Vivadent materials, programs for third-party materials can be created independently and with ease. No matter what material you choose, the Programat CS6 speeds up your practice.
Easy to refine or enhance restorations with multiple firing options
Remakes are simple
State-of-the-art crystallization tray has space for a three-unit bridge or four single-tooth restorations
User interface
The Programat CS6 is equipped with a widescreen colour display. The furnace can be intuitively operated by means of the membrane-sealed keypad and the touch screen. The touch buttons can be activated by slightly tapping the display with the fingertip. Then the furnace runs the desired function.
Technical data
Power supply
110 – 240 V~ / 50/60 Hz
Overvoltage category
II
Safety class
I (The device requires a ground connection via the mains connection)
Contamination level
2
Acceptable voltage fluctuations
± 10%
Max. power consumption
1650 W
Max. current consumption (informative)
16 A at 110–130 V~
9 A at 200–240 V~
Acceptable data for pumps of other manufacturers:
Max. output, final vacuum
250 W /max. leakage current 0.75 mA
< 50 mbar
Values and dimensions of electrical fuses
Heating circuit:
T15AH 250 V
6.3 x 32 mm
Vacuum pump:
T5AH 250 V
5 x 20 mm
Dimensions of the closed furnace
Depth: 494 mm
Width: 280 mm / 415 mm (without/with
cooling tray)
Height: 450 mm / 573 mm (closed/open)
Usable size of the firing chamber Diameter
55 mm
Max. firing temperature
1560°C (2192°F)
Weight
28.5 kg