The 5-axis milling machine for non-stop dry and wet machining
With the R5 – a new high-end machine for the dental laboratory – vhf has developed a highly automated milling and grinding machine that brings revolutionary approaches to the lab along with a ten-fold blank changer for wet and dry machining. In a minimal footprint, it combines utmost precision with maximum stability and is capable of handling any material.
No material is off limits: discs, blocks, and abutments.
Machinable materials:
Composites

P

lastics

G

lass ceramics

Z

irconia

Titanium

CoCr
Maximum freedom of indication:
crown

bridge

inlay/onlay

abutment

telescopic crown

model plate

model cast

occlusal splint
model tooth
implant bar
veneer
drilling template
denture
secondary crown
screw-retained bridge
protrusion splint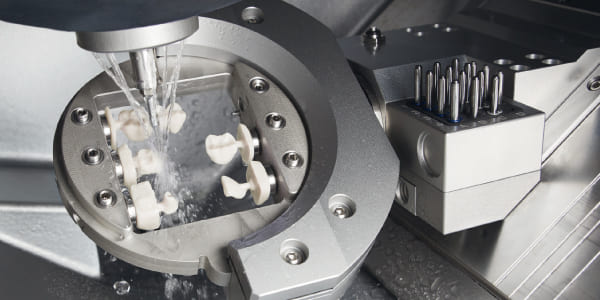 Just clear water required
For wet machining, the R5 grinds and mills with clear water which you just have to fill into the integrated water tank. For all materials, except titanium, without any additives – better for your materials and without annoying disposal.
Absolute independence
Sheer unlimited material accessibility in 98 mm disc format, 30 block materials
> 140 titanium and CoCr prefab abutment platforms
Covers the broadest range of indications, due to ± 35° rotation angle in the 5th axis, and up to 40 mm blanks
Highly economical
One of the fastest machines on the market
Revolutionary material loading with Direct Disc Technology (patent pending)
Automatic changer holds up to 10 discs, 60 blocks, or 60 prefab abutment blanks
Direct Clean Technology enables wet and dry on the fly: ionizer, self-cleaning and built-in dryer (patent pending)